Data-led Transformation
A guide to your data monetization journey
Data Monetization and modernization are key drives for global data-led transformation journeys in enterprises. 72% of top global Chief Data Officers (CDOs), Chief Analytics Officers, and other high-level data and analytics leaders from across the industries are leading or heavily involved in digital transformation initiatives. In this blog, we lay down some of the foundational elements that will guide you in your data-led transformation journey.
Enterprises are leveraging the power of data and insights to fuel transformation, create innovative business models, discover new revenue streams, and generate new sources of value for the customer. We know that data-driven decisions improve productivity, help to understand competition and lead to improved top- and bottom-line indicators. For companies, therefore, it's important to understand their customers through a 'data lens'.
With an infinite stream of information coming in from browsing and chat histories, phone records, texts, buying patterns, locations and so on, the data officers' job becomes highly complex. This constant flow of data has to be stored, processed, analysed, and monetized. Automated metadata harvesting, lineage creation, data-quality management, and other governance functions, are helping organizations scale up. While a marketer can monetize data, storing, processing, and analysing of data requires a framework that can scale, technical expertise and a platform that can support changing business needs.
In a survey of 450+ of Chief Data Officers (CDOs), Chief Analytics Officers, and other high-level data and analytics leaders worldwide, Gartner found that 72% of leaders are leading or heavily involved in digital transformation initiatives.  For organizations with advanced data lakes, data and analytics officers constantly look for ways to deliver insights from live data streams.
McKinsey found out that in the last 3 years alone, data and analytics brought about a fundamental change in competition – and data monetization played a central role in advancing their business. A significant number of new entrants launched data and analytics businesses that undermine traditional competitors' value propositions.
The same survey further revealed that for high-performing organizations (61), 78% were able to add new services to existing offerings whilst 45% were able to develop an entirely new business model. For other organizations (153) these numbers stood at 69% and 36% respectively. The business value for data monetization is clear. But tapping into this value pool requires a few building blocks to be in place for a successful data monetization program.
Most data and analytics officers agree that although data and analytics have affected their core business, they had to make do with ad hoc actions to attend to the current needs. There is no comprehensive long-term strategy in place. This leaves the organization at the mercy of quick shapeshifting market dynamics. Without vision, the perceived reality is only a mirage.
Regardless of a centralized or decentralized model for data and analytics initiatives, today finding and retaining talent is even harder than it was before. Building a Centre of Excellence for Data and Analytics requires not just leadership, processes, and best practices, but also an equally adept talent that can deliver on the promise. Our experience with delivering more than 200+ successful data and analytics products and projects globally reveals that a hybrid team of client-side core CoE team and an extended team of data and analytics professionals works best. Contact us to hear more.
Senior leadership alignment with the business objectives of data and analytics initiatives is pivotal for the success of these projects. While the CEOs like to drive data and analytics activities in the organization, the senior executives and leaders are likely to differ in their understanding of outcomes and overall business impact. This creates a void that no data and analytics initiative is going to fill. Due to the absence of alignment, most organizations have not been able to derive real value from data.
Data monetization can benefit businesses significantly, including additional revenue streams, valuable insights, and improved customer engagement. But the vision has to be far-reaching. Start by developing a plan that aligns with your business goals and the type of data you collect.
Stage your plan in logical steps. Here's a high-level view that would aid your Data Monetization journey:
Capture the existing data landscape into a Data Catalogue or Metadata Repository.
Analyse and identify key combinations of fields that may add value to some other business – internal or external
Define and develop data products while ensuring adherence to Data Governance rules like GDPR and other regional norms.
List the data products on Data Exchanges for others to discover and subscribe to.
Identify opportunities to participate in Data Clean Rooms either for self-data enrichment or data monetisation.
Data must be protected at all times. Ensuring appropriate data privacy and security measures are in place to protect your and your customer's data.
Data collection must be transparent. With data collection and storage laws evolving, being open about how you collect, use, and share your data will build trust with your customers and partners.
Data needs continuous monitoring and optimisation. Achieving your business goals and maximizing the value of your data monetization initiative will require a constant effort to upkeep and tweak performance.
Disruptors and traditional competitors will continue to change the business landscape. Agility and speed of execution in data and analytics projects will determine the rate of success.
With the right technology and a data solutions partner, you can successfully monetize your data and transform your operations.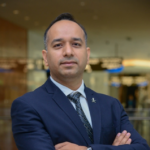 Munish Diwedi
Munish is the VP of data practice at Hoonartek. He loves to listen to business challenges and advise business leaders on potential solutions to overcome them with the help of data. Munish has been actively involved in data-led transformations for Fortune 1000 companies globally. He loves travelling and is big on trying new cuisines. Link up with Munish.
Aijaz Ansari
Aijaz is the AVP of global marketing at Hoonartek. As a lifelong learner, he takes a keen interest in hearing about transformative stories that lead to generating significant value for businesses. Aijaz also uses the potent combination of data and AI to aid with decision-making in marketing. When not at his battle station, he spends time on Xbox with his boys and watching football (soccer). Connect with him here.